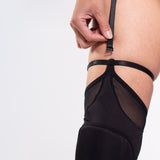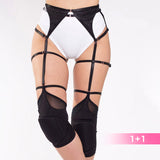 Black Fire Knee Pads (For Garters)
Fill your dance with the energy of fire by choosing the Black Fire kneepads and Garter belt Black Shine. Wearing them you are able to bring down the power of an erupting volcano. Create your new world – the world of freedom. And let your dance be truly spectacular and be a great show.
My fave kneepads!
I LOVE love love these kneepads so much. Sadly, I may have been quite rough on one when I wore them and it caused a small albeit inconspicuous tear in the mesh part ): They're still wearable though just need to be careful and patient! Also, big shout out to the Bleiz executive who helped me with my order - I received the grippy one instead of this and she helped to swiftly facilitate and exchange them at one of the pole studios I had classes at. Thank you so much, Bleiz!