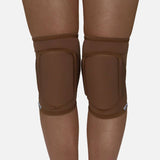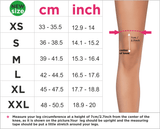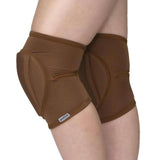 Tan Natural Knee Pads (Mocha)
Newly-launched nude shade for tanned skin! Check out the new size chart for the Nude Range :)
Characteristics of knee pads
GRIP silicone coatings strong and secure pylon grips

-Stick only to the pylon, not

 

limiting your movements on the ground

 QUEEN 3SideProtect technology – thorough protection of your knees from all sides.

 Function "changing  Pillows"gives you a possibility: create ideal knee pads for your dancing style, prolong  term of kneepads usage by changing pillows.

 Don't slip, and don't move around (if the size is right)

 Adaptive  knee-caps take the shape of any knee

Smooth - give possibility to slide easily on the dance floor

Vent hole from the inner side of the knee pads

Cutting takes  into account the anatomical features of the knee.
Info
- Protective pillows - 100% soft polyethylene foam material.
- Fabric - hypoallergenic, soft and durable jersey polyamide80% elastane20%
- GRIP coating does not lose its stickiness, does not crack and does not break down.
- Height (length) of the knee pads in front 21cm, rear 16cm (+ -5mm)
- Reinforced threads and accessories.
- machine wash
- made in Ukraine