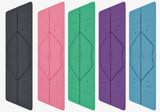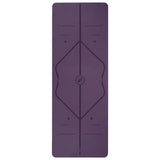 The Liforme Original Yoga Mat
Truly Revolutionary
The original ground-breaking Liforme Yoga Mat features our incredible GripForMe material which is truly Planet Friendly and Body Kind. Our unique AlignForMe system of practical alignment markers intelligently guides Yogis of all shapes and sizes. The mat is longer and wider giving Yogis the space they crave, and with perfect balance between firm stability and comfortable cushioning.
Tech Specs
MATERIALS
Natural rubber with our unique and specially engineered eco-polyurethane


WEIGHT
Approx. 2.5kg


DIMENSIONS
185cm long x 68cm wide


THICKNESS
Approx. 4.2mm
*Bag is included*
Contact us at info@bleiz.org if the colour you like is out of stock!
DM FOR MORE INFORMATION ON PURPLE MAT! 

Amazing service!
Super fast and great service
Power
Amazing lah you guys! Amazing packaging of the mat and most importantly my wife looooves the mat. Worth every buck!
This is what spiderMan feels like!
Super grippy mat even when wet. With this mat you could give spider man a run for his money If you could use this mat to climb a wall!
Serves the purpose
Great quality mat with good grip. Would also like to highlight the excellent customer service.
Fantastic
Bought this as a gift for someone - she has used it thrice in 2 days and has reported that the product is worth every penny. Item was received in great conditio and courier service was speedy and communicated well! I'll be back to buy one for myself.