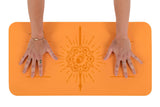 Special Edition of The Liforme Yoga Pad
*PRE-ORDER FOR SPECIAL EDITION*
Truly Supportive
The Liforme Yoga Pad is a mini version of the Liforme Yoga Mat; a mini mat you can easily fit into even a small bag. Get the comfort, stability & grip you need, even when you can't take your Liforme Yoga Mat or Liforme Travel Mat around with you. Now available in 3 special edition versions as part of our Expressions Collection.
Tech Specs
MATERIALS
Natural rubber with our unique and specially engineered eco-polyurethane


WEIGHT
Approx. 0.65kg


DIMENSIONS

33cm long x 64cm wide


THICKNESS
Approx. 4.2mm
*Bag is included*
Contact us at info@bleiz.org if the colour you like is out of stock!